Climbing to the Famous Trekking Peak in Nepal – Island Peak
Island Peak also known as Imja Tse is probably the most famous trekking peak in Nepal. The height of the summit is 6189 meters above sea level. This peak is the perfect side trip for those who are doing Everest Basecamp or Three Passes treks. It will take you only 2 additional days from Chukung to reach the peak and come back. I did it in 2018, during my Three Passes trek and I can definitely recommend it as a fun way to spend time in Khumbu.
Climbing costs for Island Peak
Imja Tse climbing difficulty
Best time to climb the summit
Island Peak climb itinerary
Death rate for Imja Tse
Recommended gear checklist
Climbing costs for Island Peak
Costs depend on the company you choose to organise your climb. Also it depends if you book it in advance or you just show up in the village and organise everything there. Surprisingly, coming to the village of Chukung and organising everything there is a cheaper option. I managed to get the price down to 500$ (+10% service fee if you pay by credit card, so have some spare cash with you if you plan to do the summit) including climbing permit (they just send your passport through viber or whatsapp to Kathmandu), professional guide (who just came down from the mountain), tent in base camp, a lot of good food and equipment I didn't have – harness with jumar, figure 8 & other stuff, climbing boots, crampons, helmet, warm down jacket and good gloves. It was in the Sunrise Eco Lodge, Chukung and I can recommend their service. Island Peak climbing costs more if you book it online as some of the money goes to the sellers and advertisement, price for the climb if you book online usually starts from 650$ and goes up to 750$ or 800$.
Imja Tse Climbing Difficulty
Do not overestimate the Imja Tse, it is not an easy mountain. Actually it is not so difficult either, but the altitude you are at makes everything much harder. There are no technical sections and the hardest part of the climb has fixed ropes (which are not so good actually). At the beginning it will be a short and easy hike, which will be followed by mix of hiking and scrambling, when you will reach a crampons point some crevices and ladders over them start, fixed lines are after them. Trust your guide, he will take care of everything and make sure that everything is OK.
Best time to climb Island Peak
The best time to climb Island Peak (Imja Tse) is Autumn – from September to November (sometimes beginning of December is also good) and Spring – from beginning of March to beginning of June. Be sure than during the peak season – September, October, April, May is full of people.
Island Peak climbing itinerary:
Day 1. No need to wake up early. Breakfast in Chukung, packing your stuff, leaving what is not necessary in the lodge and a short 2-4 hours hike to Island Peak basecamp together with a guide. When you arrive there you are served with lunch, after that if you need the guide shows you how to climb up fixed lines, how to use jumar (ascender), figure 8, carabiners. Then it is mostly free time, you can do a small climb up the hill to see the amazing huge frozen lake with big ice blocks. Dinner time around 5-6PM and as soon as the sun goes down you need sleep as you will need to wake up very early tomorrow.
Day 2. Breakfast is around 12:30AM and just after 1:00AM you have to leave for the summit. The cooks will give you small lunch bag to eat on the way to the summit. Depends on your speed and abilities it will take 4-7 hours to reach the summit. I reached it just before the sunrise at 6AM. Summit photos, enjoying the views and then long descend back to the basecamp. When you will reach the basecamp cooks will make you small lunch, you can rest some time and then you will need to hike 2-3 hours back to Chukung.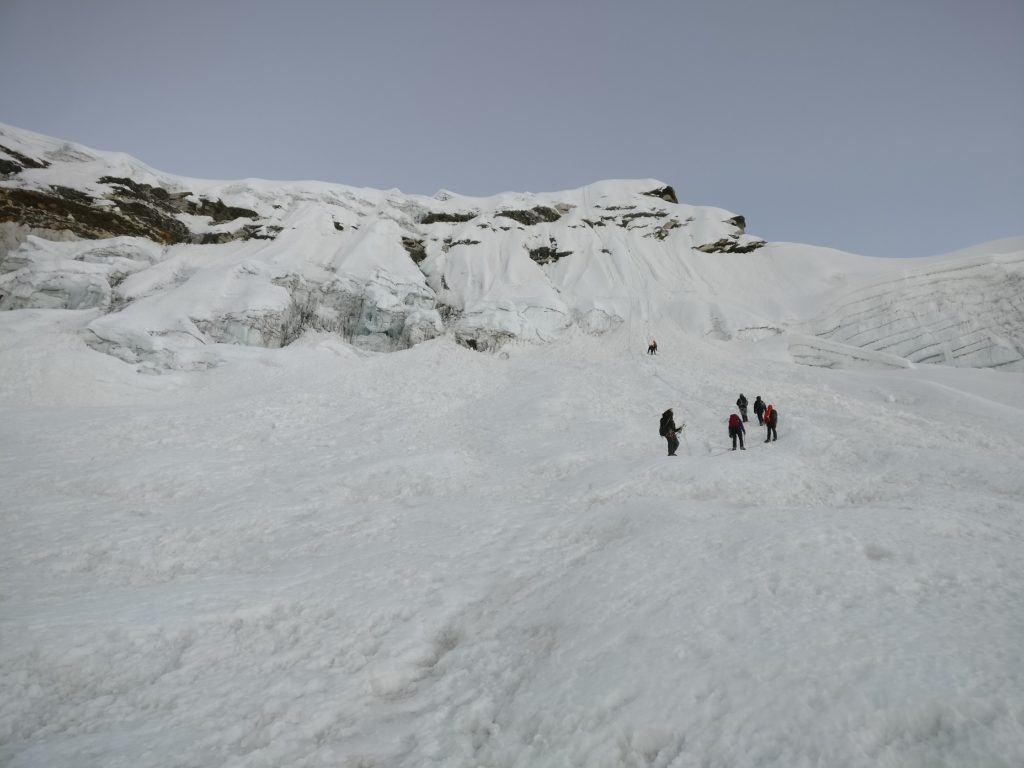 Island Peak Death rate
Death rate for Imja Tse is pretty low, but sometimes it still happens because of the mistakes made usually by clients who didn't have climbing experience before. Generally, the mountain is very safe just make sure to follow what your guide says.
Island Peak Gear List – What to bring for the climb:
Really warm gloves (provided by the agency)
Climbing boots (provided by the agency)
Crampons (provided by the agency)
Helmet (provided)
Harness with ascender, figure 8, carabiners, etc. (provided)
Warm and thick down jacket (provided)
Ice axe (provided)
Warm sleeping bag for the base camp
Baselayer clothing for sleeping and climbing
Headlamp with spare batteries
Warm mountaineering socks
Backpack
Camera or GoPro
Good hat and buff
Conclusion. The climb of Imja Tse is definitely worth a go if you have time during your EBC or Three Passes trek. It will probably be your highest Peak for just 500$! Make sure you have the insurance which covers the helicopter evacuation at this altitude if something goes wrong. Also, don't push too hard if you feel the symptoms of AMS and make sure you had the proper aclimatisation before the climb. Enjoy it!