Rock Climbing Gyms in Lithuania
There weren't many climbing gyms in Lithuania couple of years ago. Nowadays they started to pop up and most of them are amazing places! This list of climbing gyms in Lithuania is for those who come to the country and still want to practise rock climbing.
Rock Climbing Gyms in Vilnius, Lithuania
There are 3 main gyms in Vilnius which are open for public. Some climbing clubs have their own bouldering or lead walls. But for them you need special permission or you have to be student of specific university. Don't worry, they are not even close to the gyms I am writing about in this article.
Bonobo Climbing Gym in Vilnius
Bonobo gym is the newest venue in the city. Without a doubt it is also the best climbing gym in Vilnius. You can find bouldering wall, lead climbing wall, auto belay devices, training area, moonboard wall, couple routes for ice climbing with ice tools. Bonobo team organizes group and private training sessions.
They also have terrace inside overviewing all climbing gym. You can be sure that great music will always motivate you to climb harder! If you don't have shoes or other equipment it is possible to rent everything from the cashier. Small shop which offers climbing shoes, chalk bags & other stuff for rock climbing is also here. There are lockers and showers. Gym is heated in winter time and cooled in summer time.
Adress: Savanorių pr. 180, Vilnius
Opening hours: Monday-Friday 14:00-22:00, Saturday-Sunday 12:00-20:00.
More information: https://www.bonobo.lt/
Climbing Gym in Naujamiestis – Montis Magia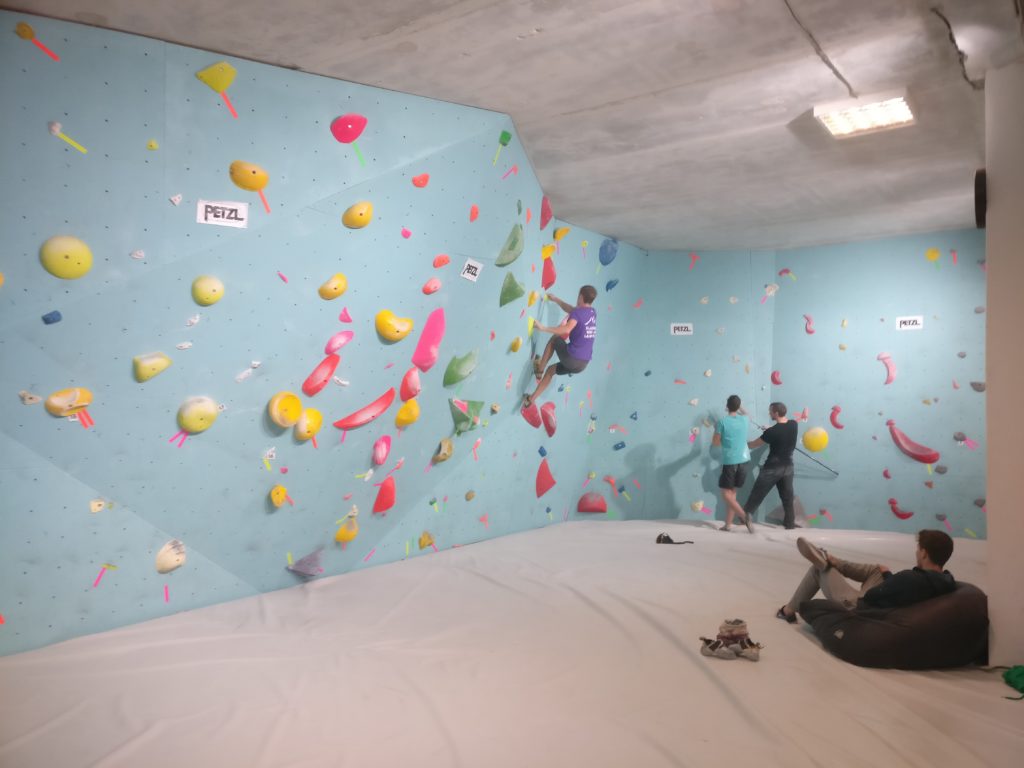 Montis Magia rock climbing gym is the oldest venue in the city. Recently they opened a lead climbing wall which is part of basketball court. It is quite loud when there is a game there. Lead climbing wall has 3 auto belays, which are good for solo climbing sessions. Bouldering gym is downstairs and it is separate from lead gym. This are has campus board, hanging boards and moon board, which is without LED lights.
This rock climbing gym is easily reachable from any part of the city by public transport or foot. Route setters in this gym do very good job creating and updating routes. Friendly staff will help you and answer questions you might have. It is also possible to rent climbing equipment from here – harness, helmet, shoes, belay device are available. Montis Magia gym is open for team building events, stag or hen parties. This gym organises group trainings from Monday to Thursday, check out their website for more information.
Adress: Vytenio g. 46B, Vilnius
Opening hours: varies, check their website.
Website: https://www.montismagia.lt/
RockOn Climbing Gym in Vilnius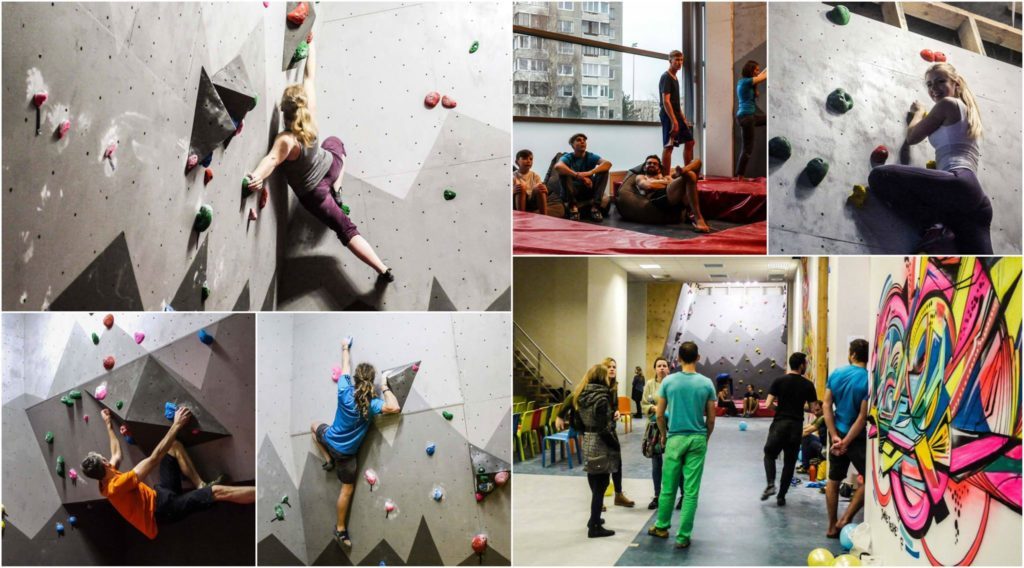 This place is quite new and I haven't tested it myself. They opened in 2017 and this gym has only bouldering walls to climb. Campus board, moon board and other exercise equipment is also available in the gym. Location is pretty far away from city center, but it might be a good choice for someone living nearby.
Adress: Ukmergės g. 283b, Vilnius
Opening hours: Monday-Friday 16:00-22:00, Saturday-Sunday 10:00-21:00.
Information: http://www.laipiojimosale.lt/
Rock Climbing Gyms in Kaunas
Kaunas being the second biggest city in Lithuania has only one public climbing gym. Nearby Kaunas there are couple spots for outdoor climbing. Pagonijos uola which offers lead climbing, drytooling and Jonava water tower which offers routes with exposure.
Rock climbing center in Kaunas – Miegantys Drambliai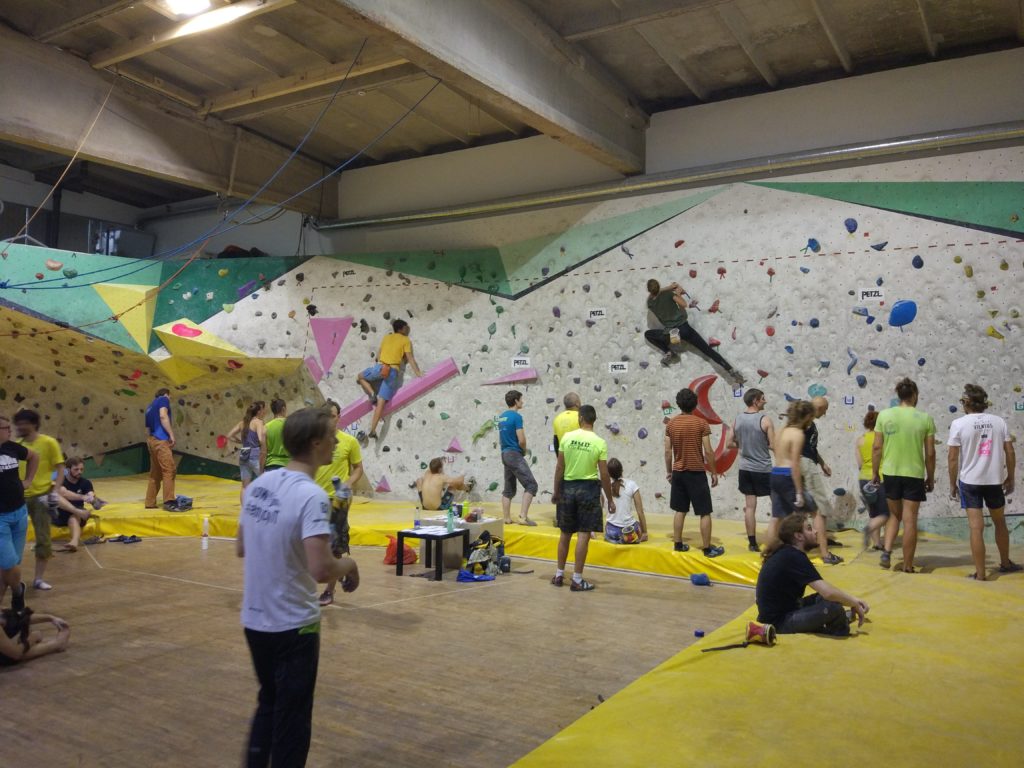 Miegantys drambliai (sleeping elephants) is the only climbing gym in Kaunas. There is only bouldering walls and some easy top rope routes. Sadly, you cannot find any lead climbing gyms in Kaunas, but Vilnius is only 100 kilometers away!
Climbing center offers climbing shoes rental. They also have small shop where you can buy necessary equipment.
Adress: V. Krėvės pr. 49, Kaunas
Opening hours: Monday-Friday 15:00-20:30, Saturday-Sunday 12:00-18:00.
Website: http://www.laipiojimocentras.lt/
Rock Climbing Gyms in Klaipėda
The port city of Klaipėda has some really strong climbers and really good climbing gym. Sadly, there is only one at this moment, but with the route setters working there it is enough!
Scala Dream Climbing Gym in Klaipėda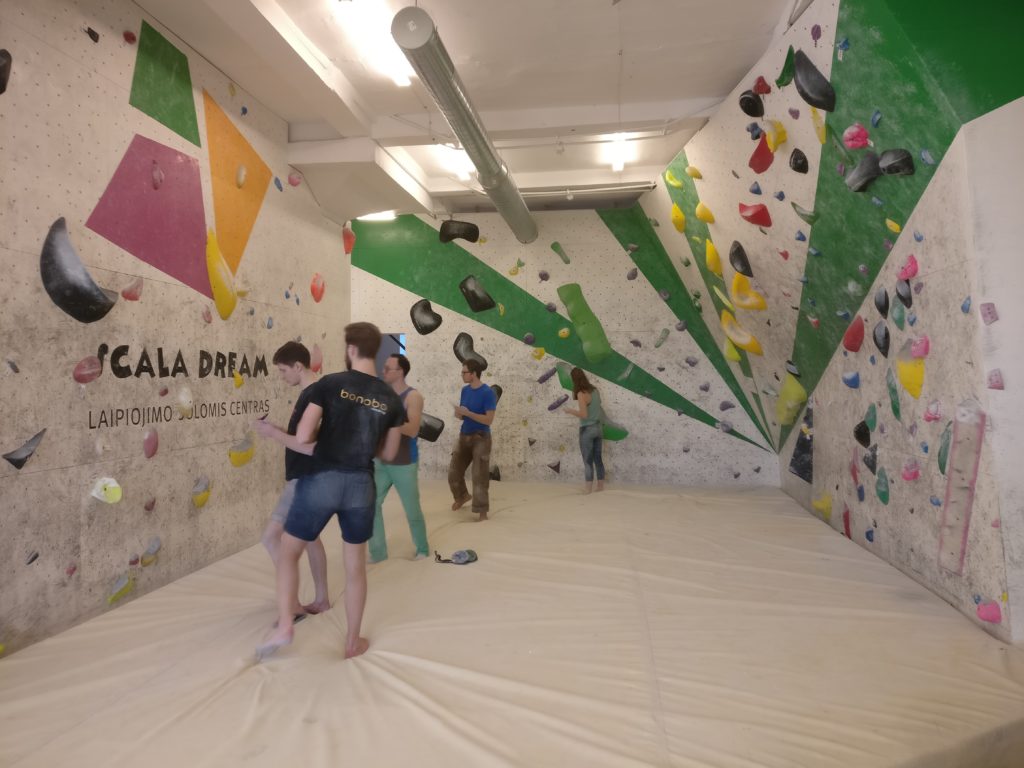 Scala dream is a bit outside of city center. That's why they have huge facilities. You can find bouldering walls, lead climbing area, training zone, small cafe and different areas for children.
It is possible to buy some equipment including harness, belay devices, chalk in the gym. If you are coming just for one time you can rent shoes and harness for yourself.
Adress: Mainų g. 6, Klaipėda
Opening hours: Monday-Friday 16:00-21:00, Saturday-Sunday 12:00-18:00.
Which gym in Lithuania is your favorite one?