Whale Shark Watching in Oslob, Cebu on a Budget
So you came to Cebu island in Philippines for whale shark watching in Oslob? Think about it really well, as it is the main tourists attraction in Cebu there are huge crowds of people who want to see these animals everyday. Every morning fishermen go into the sea and start feeding the whale sharks and after couple of minutes dozens of small boats packed with tourists are already in the sea. Everybody tries to catch that "perfect selfie" with the shark. Of course, it is unique experience and you can not see that huge fish every day.
Oslob Whale Shark watching rates (fees) 2019
Price for foreigners is fixed, it is 1000 pesos per person for 30 minutes snorkeling and being with the huge creations. Price includes snorkeling equipment, lifejacket and boat transfer to the sharks and back. I think there is no possibility to get better price for foreigner than 1000, all of the sellers/agencies and even official spot have the same price. So prepare 1000 and go to see them!
Accommodation for Oslob Whale Shark Watching
Actual spot for spotting whale sharks is not Oslob town, real place is close to Tan-Awan village which is about 10 kilometers down south from Oslob. The night before watching I would recommend to sleep there, you will have 1 hour of additional sleep and you will be at the spot night before. There are handful of hotels/hostels and resorts in the village. I stayed at Sharky hostel which has dormitory beds and double private bungalows (750 pesos for 2 per night, prices may change according to season).
Where to stay at Oslob, Cebu?
As I said before Oslob has plenty of accommodation options. But during high season it gets pretty busy and it might sold out. I recommend to book your accommodation there in advance.
Check out the best accommodation deals in Oslob – here. If you would like to get some local experience check out Airbnb. Get $25 discount for your first stay – CLICK HERE.
Whale Shark Watching briefing area in Oslob, Cebu
As I mentioned before, place for spotting the big fish is close to Tan-Awan village in Cebu island, not exactly Oslob town. Exact location of Whale shark briefing area is – 9.463480, 123.379844. There you will be provided with all the necessary information, dos and dont's. Staff is friendly and after the briefing you will get your lifejacket and snorkeling mask.
Best place to swim with Whale Sharks in Philippines
Without a doubt – Oslob in Cebu island is the best place to do whale shark watching in Philippines. This place has a long history of whale sharks watching. Village is made for that, it has enough space to accommodate all people coming to watch these giants.
Do whale sharks bite humans?
No. Whale sharks in Cebu do not bite humans, they are friendly and they do not eat people. These animals are docile fish. It is sometimes possible to even catch a ride on a shark. Although, it is strictly not recommended by scientists and people who care about whale sharks. These actions disturb the giant creatures of the ocean.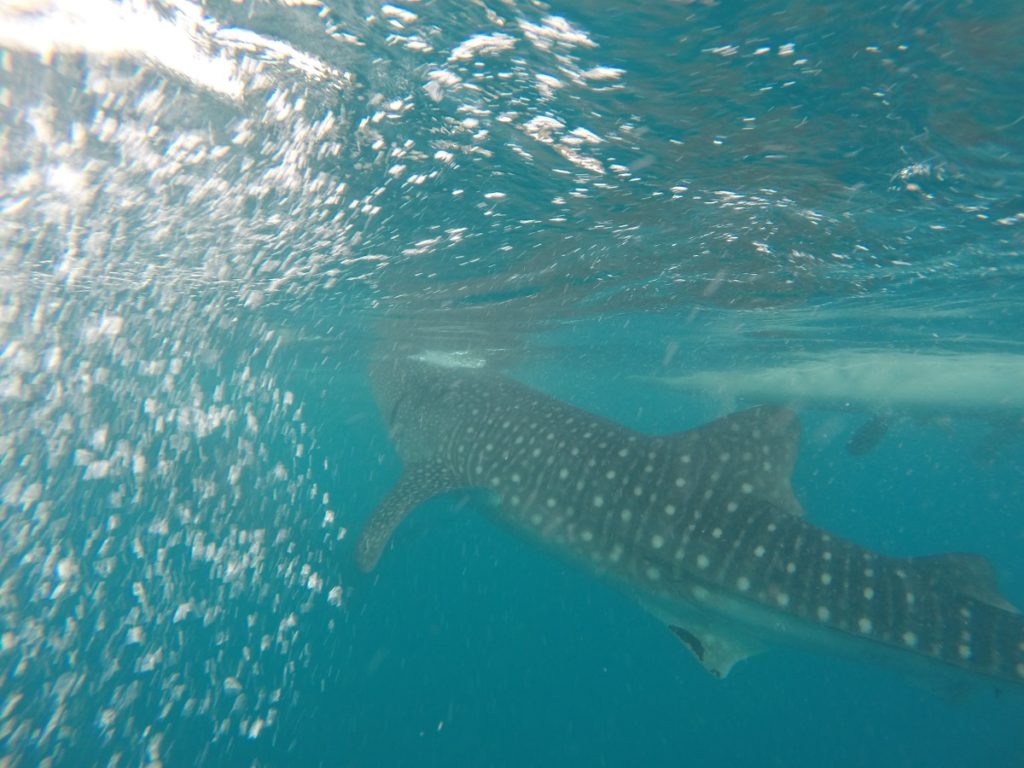 How to reach Oslob in Cebu island?
It depends on your budget which option do you want to choose:
Private taxi from Cebu city is the most expensive option. Price depends on your negotiation skills.
Public bus from South Bus Terminal. Bus will cost you ~150 pesos and will take about 3 hours.
Going to Oslob from Siquijor is also a good option. Take a ferry from Siquijor pier to Liloan in Cebu. Then catch a public bus for a small fee until Oslob.
Oslob is not a town, it is just 2 sides of the highway. When going from Cebu city or Liloan port make sure to tell driver to drop you at whale shark watching spot.
Oslob whale sharks watching video
Schedule for watching whale sharks in Cebu
Many people recommend to go there as early as possible. In sharky hostel we had to meet at 5:20 AM for the tour. But it looks that it is like psychosis, everybody comes early and then it is not the best time to be there. So my recommendation would be – come there around 8-9 or even 10 AM. Then there should not be so many people and pictures in the water should be more beautiful. Tours are organised until 11:00 or 12:00. Don't come too late!
Oslob Whale Shark Package
You can easily arrange a package tour in Cebu city. Whale Shark watching is the main attraction for tourists in Cebu island. Because of that there are many tour companies organising package tours to Oslob and back. It is possible to do one day tour from Cebu city and back. You shouldn't pay more than 5000 pesos for the package tour. If you want to secure your trip make sure to make a reservation online before coming to Cebu. Check companies and their ratings at tripadvisor.
What to do in Oslob, Cebu?
There is not much stuff to do in Oslob after watching whale sharks. If you haven't seen enough waterfalls in Philippines then you can check out Tumalog falls. They are not far away from whale shark spotting place. Habal-habal will cost you around 100-150 pesos both ways and entrance fee to Tumalog waterfalls is 20 pesos per person. It is 5 minutes walk from the parking place.
Have fun, behave according to the rules, take pictures and leave nothing in the water!
💲Whale Sharks watching entrance fee: 1000 pesos per person.
📍Location of whale sharks Oslob briefing area: 9.463480, 123.379844