Kayaking – Summer Activity in Vilnius
Vilnius is amazing city to spend a couple days or a week during the summer. It is one of the couple capitals in the world which allows hot air balloons above the oldtown. Lithuanian capital also offers many parks, guided tours, adventures, hikes in nature and other activities during summer. Besides that it is also possible to go kayaking directly in Vilnius city center. This activity was probably tried by every lithuanian! Rivers are clean and nature is beautiful! Check out the possible options for kayaking in Vilnius.
Neris River Kayaking in Vilnius – Beginners Option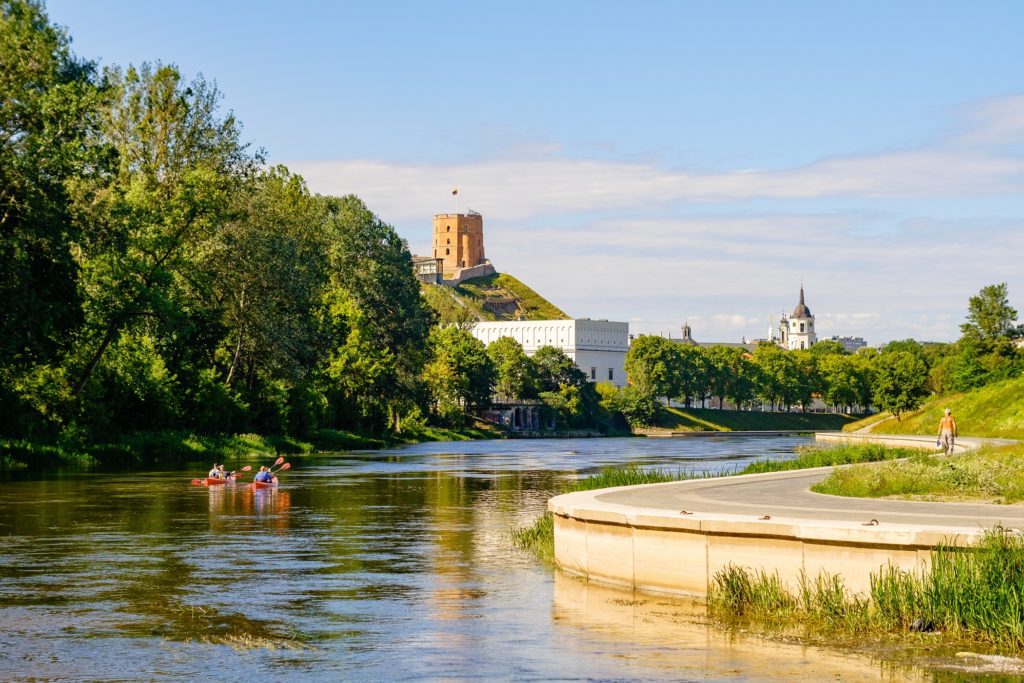 Neris is the main river in Vilnius. It is the second longest river in Lithuania after Nemunas. Kayaking in Neris river is easy, no prior experience needed. There are different options for those who are interested in kayaking on Neris:
Verkiai – White Bridge (1,5-2 hours length). Easy paddling through some nature and the city center.
Ožkiniai – White Bridge (2,5-3 hours length). This route is easy kayaking through nature and Vilnius city.
Vilnius – Kernavė (2 days). For those who want to have overnight kayaking adventure. Camping spots at Neris regional park are available.
Other options are also available. You should contact company operating kayaking tours in Vilnius and tell them what you are interested at.
Kayaking in Vilnius, Neris river Video
Kayaks rental prices for Neris river starts at €10 per person. This price includes kayak, paddle, lifejacket and transportation to starting place. If you are a small group additional fee for transportation might be added.
Vokė Kayaks Rental – Advanced Kayaking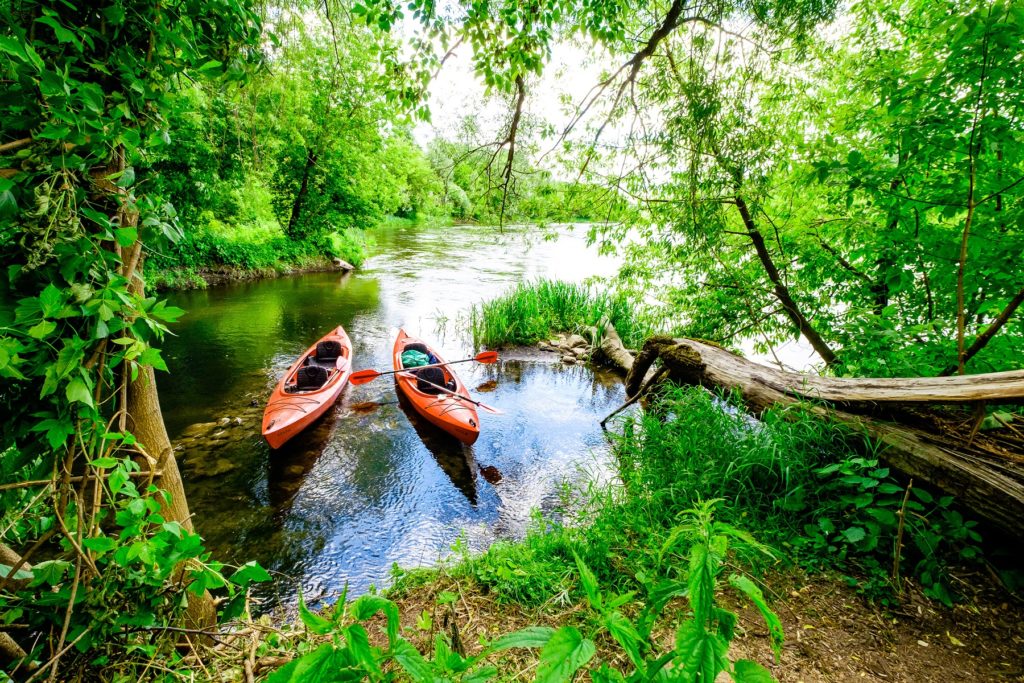 Vokė is another river which is popular among kayakers in Vilnius. It is not exactly in the city, but a short drive away. Kayak rental companies provide transportation from Vilnius center to starting place. They also bring you back to the meeting place after kayaking tour. Vokė river is more interesting, some parts of it have stones, sharp river turns and other obstacles. Book this tour only if you had kayaking experience before! Options for Vokė kayaking:
Pagiriai – Grigiškės (5-6 hours). This is a perfect daytrip, bring some snacks and drinks for picnic!
Mūrinė Vokė – Grigiškės (2-3 hours). Short trip with a lot of stones and other obstacles. Second part is through Grigiškės town.
Other options and lengths are also possible. Check with your kayaking in Vilnius company.
Vokė is a perfect choice for those who want to get out of the city, but don't want to spend a night somewhere. You will feel the nature and in most of the tour there will be no other people. Price for Vokė kayaking tour starts at €10/person plus transportation fee.
Extreme Kayaking in Vilnius – River Vilnia
Vilnia river, also known as Vilnelė is the most extreme kayaking option you could find in Vilnius. The best experience is during autumn or spring, when the water level is high enough. During hot summer days it is not recommended to go kayaking there because of low water level. Different options for extreme kayaking in Vilnius:
Naujoji Vilnia – White Bridge (~3 hours). Extreme kayaking with sharp river turns, stones, fallen trees and other obstacles.
Belmontas – White Bridge (~1,5 hours). Shorter version of the tour for those who don't have time to experience the whole tour.
Kena – White Bridge (2 days). First part of the tour is easy and calm. After it gets more interesting and extreme. Overnight stay at wild camp with a tent is possible.
You have to be really experienced to go for Vilnia kayaking. We have heard some bad stories when people without experience decided to take this trip. Price starts at €12 per person for kayak, paddle, transportation and life jacket.
Which Company to Choose for Kayaking in Vilnius?
There are many companies which offers kayak rental services in Vilnius. I can recommend https://baidaresvilniuje.lt, which is trusted company by locals and foreigners. They have top rankings on tripadvisor and the staff is speaking english. BaidaresVilniuje.lt also have fluent english speaking guides if you are interested in guided tours. You can book the tours by calling +37062739146 or writing to plaukimas@baidaresvilniuje.lt.
Have you done kayaking in Vilnius? Which river did you like the most?