Everest base camp, Gokyo Lakes, Three Passes gear checklist
There are three main treks in Khumbu valley – EBC (Everest Base camp) trek, hike to Gokyo Lakes and the hardest one Three Passes trek. All of them require almost the same gear, just different amounts of time and money. Check out my recommendations for these treks: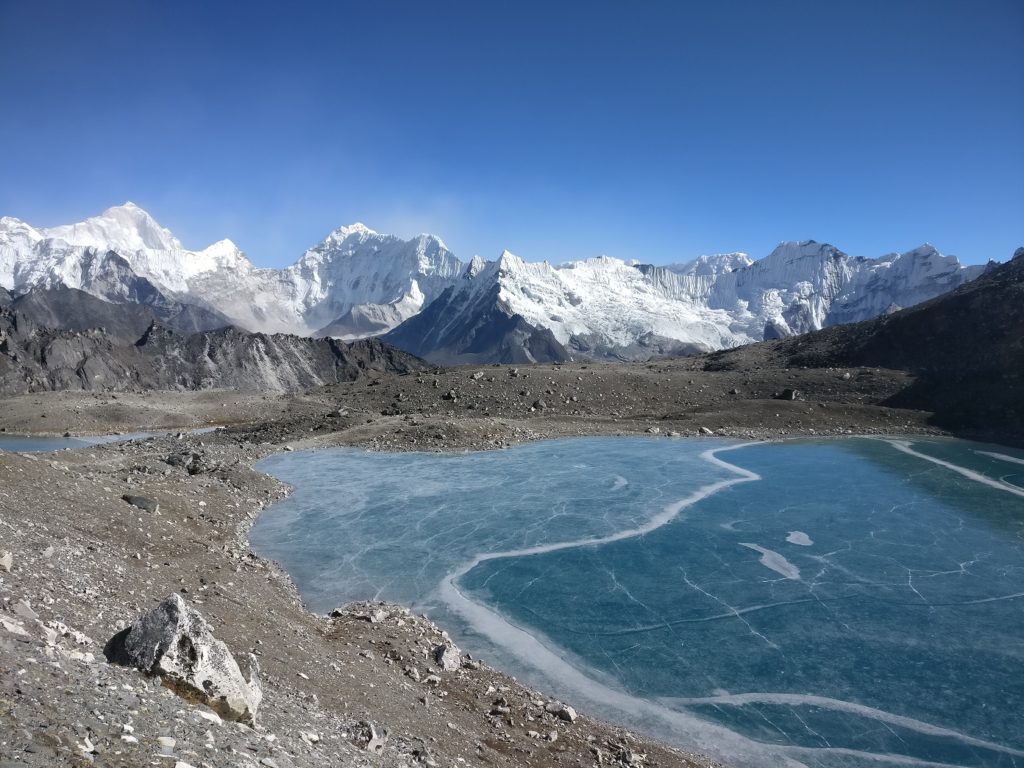 Clothing, shoes and apparel:
Trail running/hiking shoes (or both). Personally I walked the whole three passes trail with Salomon SpeedCross 4 GTX and I can definitely recommend them.
Good down jacket for cold evenings in lodges.
Base layers. Check out merino wool base layers for torso and legs.
Underwear and socks. You will need to evaluate your level of hygiene and how often do you want to change them. Trust me, it is ok to change them even every 3-5 days.
T-Shirts, pants, buff and hat. You want to stay warm during the trek.
Gloves (2 pairs – warm and thin ones).
Rain and windproof jacket. Windstopper is definitely recommended as it gets really windy up in the mountains sometimes.
Outdoors and hiking stuff:
Warm or down sleeping bag (at least -5 Celcius comfort level).
Hiking poles. I can recommend black diamond hiking poles.
Sunglasses. Some of the days will be very sunny. Especially if you will decide to climb the Island Peak. Personally I used Julbo Explorer Cameleon and was very happy with them even on the most sunny days.
Snacks for lunches. Have some snickers bars, nuts, dried meet or fruits. Honey, crackers, peanut butter also works well.
Water purifying tablets or filter (if you are panicking take both). Water is not the most cleanest thing in Khumbu as there are many horses and jaks on the trail who might be peeing and pooping in the rivers and water sources. Have tablets with you and purify every bottle of tap water you want to drink.
Vaseline is a must-have thing on the trail as the sun gets very strong and your lips get dry.
Electronical gadgets and navigation:
Powerbank is a good thing to have. Most of the lodges on trail will try to charge money from you for charging your phone or camera.
Solar charger. This thing saved me a lot of money during my hike. Use it during the day, when the sun is strong. You can charge your powerbank, watch, camera, phone and whatever else you need to charge. I used 24W Rav Energy solar charger which was very strong and I can definitely recommend it.
Chargers for your phone, camera, batteries, watch and everything else.
SIM card is working in Lukla, Namche Bazaar, Tengboche, Pangboche and some other places in Khumbu. If you want to save your money on internet get one in Kathmandu. Check out my article about staying online during your trek – SIM card for Everest base camp trek.
Hiking map, Maps.me app or GPS device for navigating on the trail. It is quite hard to loose the trail, but it is nice to know where you are exactly, so get a map in Kathmandu or download the app for your phone.
Flashlight. Get Black Diamond or Petzl headlamp, you will need it for Island Peak, early morning hikes or trekking after the sunset.
Other essential stuff:
Nepalese ruppees is the best currency to have during your Everest base camp trek as the lodges will charge you in NRP, not USD.
Insurance. Don't forget this one. You never know what might happen on the mountain.
Good and comfortable backpack to fit all your stuff.
Credit card is a good thing to have if you will have some health problems and will need evacuation. Also, if you will want to buy something expensive, like Island peak tour you can pay for it by your credit card.
I think that's all I had during my 18 days Three Passes trek in Khumbu. Sometimes I thought that I even had too much clothes.